Registration for Spring Session 2019 (April 29 – May 17) will open March 12, 2019.
---
Welcome ELLA members! You are invited to register for Spring Session 2019 which runs from April 29 to May 17, 2019.  Online registration begins Tuesday, March 12 at 10:30 a.m. and closes Monday, April 22 at 2:00 p.m.
Registration Form –  Spring Session Registration Form 2019-02-19
NOTICE: Unfortunately we have 3 courses that have been CANCELLED:
EL 57 – Early Child Development 
EL31 – Wood Carving a 3D Cottage
EL50 – British Painting and Sculpture 
The form can be printed and mailed in to ELLA if you are unable to register online.
Online Registration Steps
ELLA has a printable detailed document on everything you need to know to register. Click here to open it: 2019 Online Registration Steps-2019-01-16-V2
This is a sample of what it looks like:
Step 1:  If you are an ELLA member, you will receive an email with an "Access code link" after March 5, 2019 which will allow you to register for the ELLA Spring Session online, starting Tuesday March 12 @ 10:30 a.m., using Eventbrite.
If you cannot find this email soon after March 5, check your Spam or Junk Mail folder.  You can also contact the ELLA Office at 780-492-5055 and ask for the email to be resent to you. For people who become members after our mass mailing, we will try to email you the Access code link within 7 days.
Step 2:  Access the ELLA registration page by clicking on the link provided in the email.
Registration opens at 10:30 A.M. on March 12.  If you click on the "Access Code link" before then, you will get the message "Sorry, the promotional code you entered is not valid yet".  (Promotional code and Access code mean the same thing)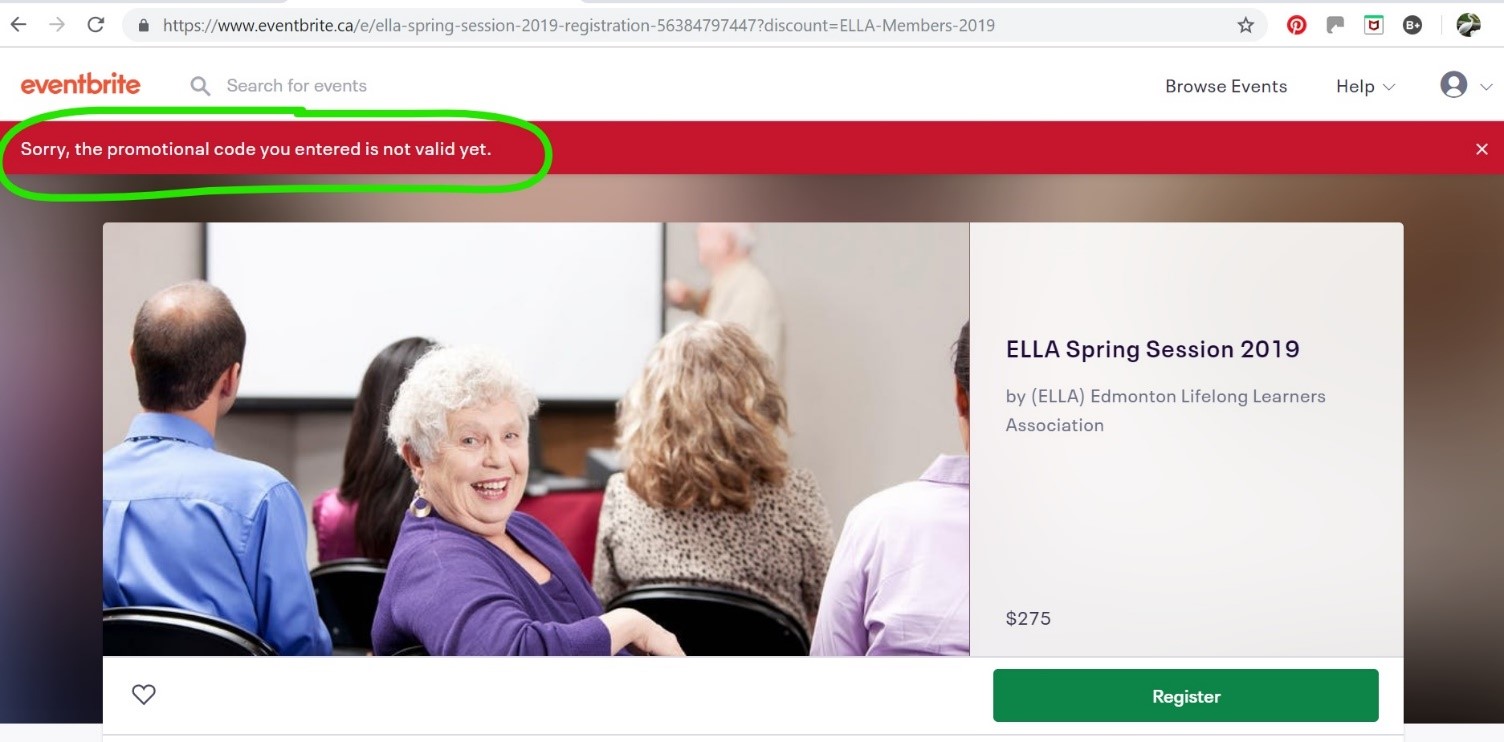 To see the entire document, click here. 2019 Online Registration Steps-2019-01-16-V2
---
Important information for Spring Session 2019
Spring Session Dates – April 29 to May 17
Meet & Greet Event – Friday, May 10 @ 4:30 @ Faculty Club
Volunteer Luncheon – Tuesday, May 07 @ Lunch on the 4th floor Education Building North
Registration Fee – $275, all inclusive
Bursary Fee – $75
Registration opens – March 12 @ 10:30 a.m.
Registration closes – April 22 @ 2:00 p.m.
Course changes end date – April 22 @ 2:00 p.m. for online registrations; April 17 @ 2:00 p.m. for office registrations as the office is closed on Good Friday and Easter Monday.
Refund requests end date – April 24 @ 2:00 p.m.
Locations of Spring Session:
Main – Education Centre @ 11210 87th Avenue
Art Classes –EL 30 & EL 60 are downtown at the Faculty of Extension. All other art classes are in the Education Centre.
Line Dancing – East Gym, Van Vliet Complex, 5-minute walk from Education Centre
Class Times – Note change – Second class starts 10:30 and ends 11:40, Fourth class starts 2:45 and ends 3:55.  20 minutes for break.
Transportation and Parking –  Parking is $80.  Instructions on how to buy passes will be on My-ELLA.   Parking passes will not be available until 3 weeks before the event.