Mindfitness: the condition of being mentally, emotionally and physically healthy.
MINDFITNESS Breaks combines Mindfulness & Fitness to create MINDFITNESS. During these sessions I will teach techniques for relaxation, to improve focus, fitness and enhance the mind-body connection as well as foster self-regulation of emotions. Learn how to integrate this into your daily life so you can lead healthier lives mentally, emotionally & physically.
Note: This course complements Course 23-W102 – Yoga on and off the Mat with a Chair for Support taught by Lynnda Ann Sharp.
Instructor: Susan Agrios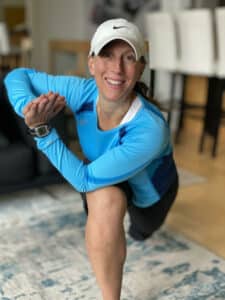 Susan Agrios teaches fitness, mindfulness and yoga for people and businesses the world over. Before MINDFITNESS, Susan was a K-12 teacher and fitness trainer. She helped recreational to Olympic athletes reach peak fitness. She went to India, where she studied yoga and meditationfrom masters, swamis and gurus. Today, she inspires people to practice kindness and lead healthier lives—physically, mentally, and socially. Susan guides schools and businesses to embrace fitness and mindfulness. Through movement and breath, her techniques help others build strong connections to their bodies and minds. The positive effects on focus, emotions and health are profound. Her beKIND Mindfulness and beGRATEFUL school assemblies help students and staff conquer their stress and anxieties.