Zumba GOLD® is perfect for active older adults who are looking for a modified Zumba® class that recreates the original Zumba® moves at a lower-intensity. It is a dance-based cardio exercise program.The design of the class introduces easy-to-follow Zumba® choreography that focuses on balance, range of motion, and coordination. Zumba GOLD® allows you to go at your own speed with low-impact routines that are easy to follow and are fun.This class focuses on all elements of fitness: cardiovascular, muscular conditioning, flexibility and balance whilst also improving cognitive function and overall mental health.
Instructor: Lorena Baretta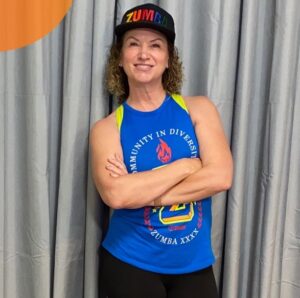 Lorena Baretta is a CanFit Pro Fitness Instructor Specialist who specializes in the Zumba® Fitness formats. She also has an AFAA Group Resistance Certification and a CanFit Pro Active Aging Certification with the experience to teach a variety of specialized fitness classes. She enjoys meeting and connecting with participants while helping them maintain a healthy lifestyle through movements and music. She loves spending time with family and favorite activities outside of fitness are cooking, gardening, crafts, and traveling.